Contents of this page
July 4th Parade - CANCELLED
Annual Meeting was 6/23 via ZOOM
Public Health Emergency
2020 Membership Drive
Neighborhood Involvement
About the Whiffletree V-VII Homeowners Association
Winner of Best Neighborhood Award
Upcoming Events
Pay HOA Dues
Past Events
Watering Guidelines
The following items have been moved to the ARCHIVE page
Winter Social was held January 27
Survey Results From Our Neighborhood
Peanut Butter Drive to Support N. Texas Food Bank
National Night Out
Legacy Screen Wall Replacement Update
Emergency Preparedness
Presentation Made at City Workshop on "Best Neighborhoods" Program
---
Announcements
Whiffletree July 4th Parade CANCELLED
The Whiffletree July 4th Parade has been cancelled due to recent sharp increase in COVID cases in the community. We sadly take this action to protect all residents of Whiffletree.
---
Annual Meeting was held 6/23/20 via Zoom
On June 23, Whiffletree V, VI, VII Home Owners Association held its annual meeting via ZOOM to elect board members and to review and approve the annual budget for fiscal year (FY), April 1, 2020 - March 31, 2021.  As stated in the WHOA Bylaws, the existing Board proposed a slate of officers and committee chairpersons to the membership attending the meeting, which was unanimously approved.  The new WHOA board serves until March 31, 2021, and we thank them for their service to their neighborhood.
President: Jim Skelly
Vice President: Tommy Mrazek
Secretary: Lisa Kravitz
Treasurer: Bill Ostergren
Beautification Committee Chair: Tom Dixon
Crime Watch Committee Chair: Tom Moore
Membership Committee Chair: HB Bartz
Social Committee Chair: Angela Hurn
Welcoming Committee Chair: Lucy Lorenzo
The annual budget was then presented by Treasurer, Bill Ostergren.  You can review the budget by CLICKING HERE. During his presentation, Bill noted that the budget was based on assumption of 314 paid memberships in FY 2021, which compares to 312 paid memberships in FY 2020.  The proposed budget was approved unanimously.
Bill Ostergren also stated that paid memberships for FY 2021 currently stand at 239.  This may necessitate spending reductions if paid memberships fall substantially short of budgeted levels.  Since Beautification, Annual Directory and Social Events consume the largest portion of our annual budget, we may have to find ways to reduce those expenses or tap into our reserve funds, which are intended to fund large capital investments to our entrances.  Our HOA is voluntary and dues remain low at $120 per year if paid by check or $124 if paid online.  Your HOA strives to keep Whiffletree's property values high and maintain our community-wide reputation for being a great place to live!  We depend on all our residents to support those efforts. You may send a $120 check (payable to WHOA) to the Whiffletree mailbox (PMB 288, 3948 Legacy Drive, Suite 106, Plano, TX  75023).  It is also easy to pay online at www.mywhiffletreehoa.com.   Go to the "Pay Dues" tab on the website and pay with your credit card or PayPal.
No matter how you remit payment, please visit our website and ensure that your household information is correct.  If you have any changes, use the Membership Form tab and make your updates.  If you have any questions or concerns please call or email Membership Chairperson, HB Bartz (972-208-9689 or hbartz@aol.com).  Thank you!
The annual meeting was adjourned with special thanks to those neighbors that participated and to all board members for their commitment to serve.
---
Public Health Emergency - Updated
On March 16, Plano declared public health emergency. See post from Plano. For more information, go to City of Plano website, https://www.plano.gov/. Additionally, City of Plano posts daily statistic about COVID-19, which can be found at: https://www.plano.gov/3558/COVID-19-Cases
---
2020 Membership Drive
A couple of changes have been implemented regarding the membership form and the amount of dues being charged for credit card/paypal payments. CLICK HERE FOR DETAILS.
---
Legacy Screening Wall Replacement Update - Projected to Start Week of April 20
The project to replace the screening wall along Legacy Drive is getting close.  It is now scheduled to start week of April 20.  The project duration is projected to be 4 months.  Please note that weather can delay these projections.  See letter from City of Plano Engineer with details possible impacts during the project.  A copy of this letter was mailed directly to our neighbors with homes along Legacy.
During the construction, we can expect the following to occur:
One lane of westbound Legacy will be closed during the day.
The sidewalk along Legacy will be closed.
The sidewalk and alley will be completely renovated.
The alleys along Legacy will be impacted for 3-4 weeks by wall reconstruction and alley repaving. This will limit access to the alley for the residents facing Legacy and will require trash pickup in front as well as limit access to garages via the alley.  The construction company plans to advise effected residents either with direct communication or by leaving a flyer on the door informing them when/how the alley will be impacted.
When the wall is completed, the contractor will remediate the entrances, including electrical and sprinkler service. The City of Plano Project Manager instructed Whiffletree HOA (WHOA) to obtain bid to replace the plantings at the Harvey and Marchman entrances for review and reimbursement by the City of Plano.
WHOA board has been following this project for several years and is pleased that it is finally getting close. We will continue to monitor this project closely to ensure that the impacted residents and the entrances are handled as committed.
---
About the Whiffletree V-VII Homeowners Association
The Whiffletree V-VII Homeowners Association is a residential subdivision comprised of 477 homes. It is a family-oriented neighborhood which is located just north of Legacy Drive, east of Coit Road in Plano, Texas.
Any resident of the Whiffletree V-VII neighborhood can become a paid member of the Homeowners Association. It doesn't matter if you are renting or if you own your home. We welcome all residents.
We want to formally welcome all new residents and hope each of you finds caring neighbors and a friendly atmosphere that add so much to the quality of life here in Whiffletree V-VII.
---
Winner of Best Neighborhood Award - Platinum Level
Whiffletree is a 2016 "Plano BEST Neighborhoods," Platinum Award recipient! We were formally recognized by the Mayor and the Plano City Council at their meeting on December 12, 2016. Platinum is the highest recognition level,  and only four Plano neighborhoods received it.  Of the four, we are the only one with a non-mandatory (voluntary) Home Owners Association.
This is a very proud moment for Whiffletree V, VI, VII and we want you to share in the excitement!  For more information about the "BEST" program and the award presentation visit www.plano.gov/2893/BEST-Neighborhoods-Designation. Thank you to all of our residents for your support of our Whiffletree neighborhood.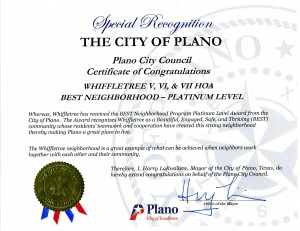 ---
Upcoming Events
| | |
| --- | --- |
| Cancelled | July 4th Parade cancelled due to recent increase in COVID cases |
Past Events
6/23
Annual Meeting will be held 6/23 via ZOOM.  Link is: https://netapp.zoom.com/j/93984131442
Jan 27
Winter Social at Napoli's Italian Restaurant
Oct 1
National Night Out (6PM at Prairie Meadow Park near Mathews Elementary School)
Sep 1-30
Peanut Butter Drive for North Texas Food Bank
Jul 4
Annual July 4 Bike Parade and Picnic
Jun 6
D-Day Remembrance - 75th Anniversary @ Plano Event Center (2000 East Spring Creek Pkwy), 7pm - 8:15pm
Apr 1
WHOA Annual meeting and Election
Jan 21
Whiffletree Winter Social at Napoli's Italian Restaurant
Nov 10
Neighborhood Garage Sale
Oct 16
Home Security Presentation by Plano Police Dept., Oct. 16 at 7PM
Where: Hardy Room, 7501-A Independence Pkwy (Building next to Davis Library).
Oct 2
National Night Out - 6-8 PM at Prairie Meadow Park.
Jul 4
Annual July 4 Bike Parade and Picnic; CLICK HERE for pictures and recap
Apr 8
WHOA Annual meeting at Davis Library, begins at NOON


Whiffletree Leadership
---
Newsletter
To view the current issue of the newsletter, click on the image above or CLICK HERE.
---
Watering Guidelines for Spring/Summer Months (Apr 1 - Oct 31)
Plano residents and businesses are asked to only water a maximum of twice per week. Please note that Watering is prohibited during the hours of 10 a.m. and 6 p.m. 
Even addresses can water on Mondays and Thursdays. Odd addresses can water on Tuesdays and Fridays. 
For additional details, visit www.plano.gov/220/Water-Conservation-Restrictions-Home
---
HOA Dues now being collected
To Pay by Check
Make a check payable to "WHOA" in the amount of $120 and mail to PMB 288; 3948 Legacy Drive, Suite 106; Plano TX 75023-8300.
To Pay by Credit Card or PayPal
A Credit Card or Paypal can be used to pay your annual HOA dues. To do this, click on the PAY NOW button (appears below). Please note that there is an additional $4 fee to cover the costs for processing online payments. Payments by check do not include this processing fee.
---
BYLAWS
For all current and potential residents of the Whiffletree V-VII Homeowners Association, a copy of the organization's BYLAWS can be viewed by CLICKING HERE.
---
Detailed Recap of Annual Meeting
To view a detailed recap of the Annual meeting, CLICK HERE.
---
July 4 Parade and Picnic
Whiffletree celebrated 4th of July with its annual parade and picnic. As in previous years, we were honored by Plano Fire and Police personnel who led the parade around the neighborhood. Following the parade, we recited the Pledge of Allegiance and sang the National Anthem in recognition of the momentous events 243 years ago leading to the formation of the USA.
The picnic was held at the pavilion at Prairie Meadow Park where the Hamburger Man served a fantastic lunch to 163 neighbors and a number of Plano Police Officers.
Special thanks to Karen Slott, Whiffletree HOA Social Committee Chairperson, for all her work organizing the event with support from our great HOA board members, Tom Slott for his outstanding photography work, the Hamburger Man for a great lunch, Plano Fire and Police for leading the parade, and of course, all the Whiffletree neighbors who participated in this annual event.
To see photos, click on the PHOTOS button at the top of the webpage or click on the following link: https://whoa.smugmug.com/2019-July-4-Parade-and-Picnic/ .
As always, we welcome any comments and suggestions to make this an even better event.