Contents of this page
2020 Membership Drive
Peanut Butter Drive for North Texas Food Bank
Neighborhood Involvement
About the Whiffletree V-VII Homeowners Association
Winner of Best Neighborhood Award
Upcoming Events
Pay HOA Dues
Past Events
Watering Guidelines
The following items have been moved to the ARCHIVE page
Drive By Concert Encore (Aug 4-5, 2020)
Annual Meeting was 6/23 via ZOOM
Public Health Emergency
Winter Social was held January 27
Survey Results From Our Neighborhood
Peanut Butter Drive to Support N. Texas Food Bank
National Night Out
July 4, 2019 Parade and Picnic
Legacy Screen Wall Replacement Update
Emergency Preparedness
Presentation Made at City Workshop on "Best Neighborhoods" Program
---
Announcements
2020 Membership Drive
A couple of changes have been implemented regarding the membership form and the amount of dues being charged for credit card/paypal payments. CLICK HERE FOR DETAILS.
---
Peanut Butter Drive for North Texas Food Bank
Whiffletree is supporting the 7th Annual Peanut Butter Drive for the North Texas Food Bank (https://ntfb.org/). This program runs September 1-30. There are over 44,000 food-insecure children in Collin County and we can help address hunger in our region.  In 2019, Whiffletree neighbors donated 1,717 pounds of peanut butter and we are looking to improve on that this year. For our efforts, Whiffletree was recognized by the City of Plano and Mayor Harry LaRosiliere as the "Nuttiest Neighborhood" for donating the most peanut butter per neighborhood.  It is our goal to be repeat champions in 2020.
For this year's drive, due to Covid-19, NTFB and Whiffletree HOA are pushing a virtual drive. We are encouraging the Whiffletree Homeowners to donate virtually.  The giving page can be found at https://2020-collin-county-peanut-butter-drive-75830.causevox.com/Whiffletree.  Also, this information will be available on our website: www.mywhiffletreehoa.com.  All the proceeds collected through this drive will go to the peanut butter purchased by NTFB.  Collectively we will provide a meaningful contribution to this program. Recognizing that not everyone is in a position to contribute, any support you can provide will be appreciated.
Note that every $1 donated on NTFB giving page for Whiffletree will be converted into 16 oz. of peanut butter.
If you want to donate physical peanut butter, you can drop off your donation(s) by leaving the jars of peanut butter or alternative products on the front porch at the home of Tommy Mrazek, 7325 Paul Calle Drive. There will be a labeled container on the porch for these donations.  Alternative products, such as almond butter are acceptable.  If you prefer to donate with a check, make it out to WHOA and drop the check off at Tommy Mrazek's home in the container on his front porch.  We will accumulate all the checks and make corresponding donation for the neighborhood on the NTFB website.
Even though the program runs September 1-30, we are trying to get an early start. Other arrangements can also be made as needed to collect donations and we welcome any additional involvement or ideas that you might have. Tommy can be contacted by sending an email to deltatommy@aol.com.
Thanks for all you do to support our neighborhood and our community!
---
About the Whiffletree V-VII Homeowners Association
The Whiffletree V-VII Homeowners Association is a residential subdivision comprised of 477 homes. It is a family-oriented neighborhood which is located just north of Legacy Drive, east of Coit Road in Plano, Texas.
Any resident of the Whiffletree V-VII neighborhood can become a paid member of the Homeowners Association. It doesn't matter if you are renting or if you own your home. We welcome all residents.
We want to formally welcome all new residents and hope each of you finds caring neighbors and a friendly atmosphere that add so much to the quality of life here in Whiffletree V-VII.
---
Winner of Best Neighborhood Award - Platinum Level
Whiffletree is a 2016 "Plano BEST Neighborhoods," Platinum Award recipient! We were formally recognized by the Mayor and the Plano City Council at their meeting on December 12, 2016. Platinum is the highest recognition level,  and only four Plano neighborhoods received it.  Of the four, we are the only one with a non-mandatory (voluntary) Home Owners Association.
This is a very proud moment for Whiffletree V, VI, VII and we want you to share in the excitement!  For more information about the "BEST" program and the award presentation visit www.plano.gov/2893/BEST-Neighborhoods-Designation. Thank you to all of our residents for your support of our Whiffletree neighborhood.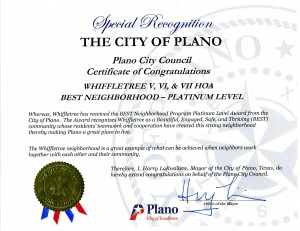 ---
Upcoming Events
| | |
| --- | --- |
| Sep 1-30 | Peanut Butter Drive for North Texas Food Bank |
| Oct | National Night Out |
Past Events
Aug 4-5
WHOA Drive-By Concert Encores (Refer to above article on ARCHIVE page)
Jul 4
July 4th Parade CANCELLED due to recent increase in COVID cases
6/23
Annual Meeting will be held 6/23 via ZOOM.  Link is: https://netapp.zoom.com/j/93984131442
Jan 27
Winter Social at Napoli's Italian Restaurant
Oct 1
National Night Out (6PM at Prairie Meadow Park near Mathews Elementary School)
Sep 1-30
Peanut Butter Drive for North Texas Food Bank
Jul 4
Annual July 4 Bike Parade and Picnic
Jun 6
D-Day Remembrance - 75th Anniversary @ Plano Event Center (2000 East Spring Creek Pkwy), 7pm - 8:15pm
Apr 1
WHOA Annual meeting and Election
Jan 21
Whiffletree Winter Social at Napoli's Italian Restaurant
Nov 10
Neighborhood Garage Sale
Oct 16
Home Security Presentation by Plano Police Dept., Oct. 16 at 7PM
Where: Hardy Room, 7501-A Independence Pkwy (Building next to Davis Library).
Oct 2
National Night Out - 6-8 PM at Prairie Meadow Park.
Jul 4
Annual July 4 Bike Parade and Picnic; CLICK HERE for pictures and recap
Apr 8
WHOA Annual meeting at Davis Library, begins at NOON


Whiffletree Leadership
---
Whiffletree HOA Mission Statement
Whiffletree HOA (WHOA) strives to promote and maintain our beautiful and safe neighborhood, welcome and engage our many diverse neighbors, and utilize sustainable and energy conscious methods.
Vision Statement
Be recognized as an exceptional neighborhood by Whiffletree neighbors, real estate agents, City of Plano leadership and the surrounding community. Achieve widespread involvement in neighborhood activities.
Value Statement(s)
Treat all Whiffletree neighbors respectfully and courteously.
Advocate for Whiffletree neighbors with City of Plano on neighborhood impacting issues.
Provide for social interaction to build neighbor-to-neighbor relationships and promote neighborhood & community spirit.
Maintain a beautiful and environmentally conscious neighborhood entrances.
Promote public safety and crime prevention in cooperation with Plano Police Department.
Enhance value of residing in Whiffletree by attaining sustained recognition within the community of Whiffletree's excellence, i.e. continued Plano BEST Platinum Level and sustained acknowledgements from City of Plano and the community for our contributions.
Whiffletree Neighborhood – Be a Good Neighbor
Be friendly and welcoming to all.
Help those in need in Whiffletree, Plano and surrounding communities.
Maintain our home and property to promote Whiffletree as a beautiful and thriving Neighborhood.
---
CLICKING HERE or clicking on the above image will take you to our Facebook page.
---
Newsletter
To view the current issue of the newsletter, click on the image above or CLICK HERE.
---
Watering Guidelines for Spring/Summer Months (Apr 1 - Oct 31)
Plano residents and businesses are asked to only water a maximum of twice per week. Please note that Watering is prohibited during the hours of 10 a.m. and 6 p.m. 
Even addresses can water on Mondays and Thursdays. Odd addresses can water on Tuesdays and Fridays. 
For additional details, visit www.plano.gov/220/Water-Conservation-Restrictions-Home
---
HOA Dues now being collected
To Pay by Check
Make a check payable to "WHOA" in the amount of $120 and mail to PMB 288; 3948 Legacy Drive, Suite 106; Plano TX 75023-8300.
To Pay by Credit Card or PayPal
A Credit Card or Paypal can be used to pay your annual HOA dues. To do this, click on the PAY NOW button (appears below). Please note that there is an additional $4 fee to cover the costs for processing online payments. Payments by check do not include this processing fee.
---
BYLAWS
For all current and potential residents of the Whiffletree V-VII Homeowners Association, a copy of the organization's BYLAWS can be viewed by CLICKING HERE.
---
Detailed Recap of Annual Meeting
To view a detailed recap of the Annual meeting, CLICK HERE.