Contents of this page
Drive By Concert Encore (Aug 4-5)
2020 Membership Drive
Neighborhood Involvement
About the Whiffletree V-VII Homeowners Association
Winner of Best Neighborhood Award
Upcoming Events
Pay HOA Dues
Past Events
Watering Guidelines
The following items have been moved to the ARCHIVE page
Annual Meeting was 6/23 via ZOOM
Public Health Emergency
Winter Social was held January 27
Survey Results From Our Neighborhood
Peanut Butter Drive to Support N. Texas Food Bank
National Night Out
Legacy Screen Wall Replacement Update
Emergency Preparedness
Presentation Made at City Workshop on "Best Neighborhoods" Program
---
Announcements
Whiffletree Drive-By Concert Encores
(Aug 4-5, 6:30 - 8:30 PM)
Reminder that the Drive By Concerts are scheduled in Whiffletree on August 4th & 5th.  See the updated maps for each day, which include the start point, the travel route and approximate times to be at certain points in the neighborhood.
On August 4, the concert will start at Harvey Lane & Swanson Drive.  It will travel up Harvey to Clymer, Lavery, up and down Breton, Monette, Langley and onto Marchman.  It will end at Wolfe Court.
On August 5, the concert will start from Davis Library parking lot where they will do a sound check and then travel up Caravan to Marchman to Riley, up and down Lougheed, Paul Calle, Bryers, travel on Snidow to Swanson, and finish at Swanson & Marchman.
Please see the maps for the driving route, which starts at 6:30 PM, and finishes around 8:30 PM.
CLICK HERE TO VIEW THE MAPS or click on the image that appears in this article.
Note that if the event must be postponed due to weather, we will make announcement on Nextdoor by 4 PM on the day of the event and will reschedule to future date.
As in the first concert, the musician will be in the back of a pickup truck with one car following for safety. He will play guitar and sing mellow, happy songs. The #DriveByConcert will stop every few houses to play a song. Please do not approach the truck or congregate in your neighbors' yards. To safely hold this event, we have to ensure social distancing.
The musician, Cameron Havens, and sound company, Blue Circle Media, are both donating their services. If you enjoy what you hear, they'd love a small tip, but that is completely optional.
We have cleared this event with the City of Plano and Plano Police Department, and will follow all City of Plano ordinances and laws, as well as being within legal decibel limits for a neighborhood. We hope you enjoy a few minutes of live music from your front yard. If you share any photos or videos on social media, please tag @planomagazine and use hashtag #DriveByConcert.
A few instructions to make this a fun and enjoyable event:
Bring chairs so that you can relax and enjoy the show.
It is difficult to estimate times when the music truck will drive by your location, Suggest you arrive early. You can always visit neighbors as you await the music truck.
If you live on roads that will not be covered in this concert, use the map to pick out a location where you can view the concert.
Please maintain appropriate social distancing if you are in the vicinity of other neighbors. 
Thank you and see you soon! If anyone has any issues or concerns, please call Jennifer with Plano Magazine at 214-850-3954. We hope you enjoy this musical event.
Jim Skelly
Tel: 214-505-0862
---
2020 Membership Drive
A couple of changes have been implemented regarding the membership form and the amount of dues being charged for credit card/paypal payments. CLICK HERE FOR DETAILS.
---
About the Whiffletree V-VII Homeowners Association
The Whiffletree V-VII Homeowners Association is a residential subdivision comprised of 477 homes. It is a family-oriented neighborhood which is located just north of Legacy Drive, east of Coit Road in Plano, Texas.
Any resident of the Whiffletree V-VII neighborhood can become a paid member of the Homeowners Association. It doesn't matter if you are renting or if you own your home. We welcome all residents.
We want to formally welcome all new residents and hope each of you finds caring neighbors and a friendly atmosphere that add so much to the quality of life here in Whiffletree V-VII.
---
Winner of Best Neighborhood Award - Platinum Level
Whiffletree is a 2016 "Plano BEST Neighborhoods," Platinum Award recipient! We were formally recognized by the Mayor and the Plano City Council at their meeting on December 12, 2016. Platinum is the highest recognition level,  and only four Plano neighborhoods received it.  Of the four, we are the only one with a non-mandatory (voluntary) Home Owners Association.
This is a very proud moment for Whiffletree V, VI, VII and we want you to share in the excitement!  For more information about the "BEST" program and the award presentation visit www.plano.gov/2893/BEST-Neighborhoods-Designation. Thank you to all of our residents for your support of our Whiffletree neighborhood.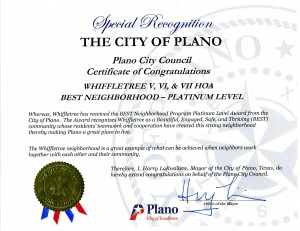 ---
Upcoming Events
| | |
| --- | --- |
| Aug 4-5 | WHOA Drive-By Concert Encores (Refer to above article) |
Past Events
Jul 4
July 4th Parade CANCELLED due to recent increase in COVID cases
6/23
Annual Meeting will be held 6/23 via ZOOM.  Link is: https://netapp.zoom.com/j/93984131442
Jan 27
Winter Social at Napoli's Italian Restaurant
Oct 1
National Night Out (6PM at Prairie Meadow Park near Mathews Elementary School)
Sep 1-30
Peanut Butter Drive for North Texas Food Bank
Jul 4
Annual July 4 Bike Parade and Picnic
Jun 6
D-Day Remembrance - 75th Anniversary @ Plano Event Center (2000 East Spring Creek Pkwy), 7pm - 8:15pm
Apr 1
WHOA Annual meeting and Election
Jan 21
Whiffletree Winter Social at Napoli's Italian Restaurant
Nov 10
Neighborhood Garage Sale
Oct 16
Home Security Presentation by Plano Police Dept., Oct. 16 at 7PM
Where: Hardy Room, 7501-A Independence Pkwy (Building next to Davis Library).
Oct 2
National Night Out - 6-8 PM at Prairie Meadow Park.
Jul 4
Annual July 4 Bike Parade and Picnic; CLICK HERE for pictures and recap
Apr 8
WHOA Annual meeting at Davis Library, begins at NOON


Whiffletree Leadership
---
Newsletter
To view the current issue of the newsletter, click on the image above or CLICK HERE.
---
Watering Guidelines for Spring/Summer Months (Apr 1 - Oct 31)
Plano residents and businesses are asked to only water a maximum of twice per week. Please note that Watering is prohibited during the hours of 10 a.m. and 6 p.m. 
Even addresses can water on Mondays and Thursdays. Odd addresses can water on Tuesdays and Fridays. 
For additional details, visit www.plano.gov/220/Water-Conservation-Restrictions-Home
---
HOA Dues now being collected
To Pay by Check
Make a check payable to "WHOA" in the amount of $120 and mail to PMB 288; 3948 Legacy Drive, Suite 106; Plano TX 75023-8300.
To Pay by Credit Card or PayPal
A Credit Card or Paypal can be used to pay your annual HOA dues. To do this, click on the PAY NOW button (appears below). Please note that there is an additional $4 fee to cover the costs for processing online payments. Payments by check do not include this processing fee.
---
BYLAWS
For all current and potential residents of the Whiffletree V-VII Homeowners Association, a copy of the organization's BYLAWS can be viewed by CLICKING HERE.
---
Detailed Recap of Annual Meeting
To view a detailed recap of the Annual meeting, CLICK HERE.
---
July 4 Parade and Picnic
Whiffletree celebrated 4th of July with its annual parade and picnic. As in previous years, we were honored by Plano Fire and Police personnel who led the parade around the neighborhood. Following the parade, we recited the Pledge of Allegiance and sang the National Anthem in recognition of the momentous events 243 years ago leading to the formation of the USA.
The picnic was held at the pavilion at Prairie Meadow Park where the Hamburger Man served a fantastic lunch to 163 neighbors and a number of Plano Police Officers.
Special thanks to Karen Slott, Whiffletree HOA Social Committee Chairperson, for all her work organizing the event with support from our great HOA board members, Tom Slott for his outstanding photography work, the Hamburger Man for a great lunch, Plano Fire and Police for leading the parade, and of course, all the Whiffletree neighbors who participated in this annual event.
To see photos, click on the PHOTOS button at the top of the webpage or click on the following link: https://whoa.smugmug.com/2019-July-4-Parade-and-Picnic/ .
As always, we welcome any comments and suggestions to make this an even better event.