Contents of this page
Special D-Day Remembrance Event
Yard of the Month
Emergency Preparedness
Annual Meeting Recap
Presentation Made at City Workshop on "Best Neighborhoods" Program
Peanut Butter Drive to Support N. Texas Food Bank
National Night Out 2018 - See Sidebar (right side of this page)
Neighborhood Involvement
About the Whiffletree V-VII Homeowners Association
Winner of Best Neighborhood Award
Upcoming Events
Pay HOA Dues
Past Events
---
Announcements
Special D-Day Remembrance Event (June 6, 7PM)
On June 6, 2019, our community will come together to remember the service and sacrifice of US servicemen who fought in "Operation Overlord". On June 6, 1944, over 2,499 US servicemen lost their lives during the invasion of northern France, including 100 Texans. Twenty-five of these Texans came from the DFW region, including one from Collin County.
Operation Overlord was a joint military effort between the US, Great Britain and Canada to push Nazi Germany away from the northern shores of France. The invasion began on June 6, 1944, becoming known as D-Day. It involved over 160,000 Allied forces landing along a 50-mile stretch of beaches near Normandy, France, including 73,000 U.S. servicemen. Over 5,000 ships and 13,000 aircraft supported this invasion.
The event will be held at the Plano Event Center (2000 East Spring Creek Parkway) from 7-8:15 PM on June 6, 2019. Doors will open at 6:30PM. It is free and open to the public. Registration for the event is not required, but it is encouraged because seating is limited. For more information on this program and to register please visit http://75anniversarydday.eventbrite.com
Yard of the Month Program
Whiffletree is well known for our many responsible and caring homeowners and their beautifully maintained yards! In that spirit, our yard of the month (YOM) program is up and running and a new Yard of the Month page has been added to our website to honor these winners.
Five winners are selected each year (April through August) and a banner is displayed in the yard of the winner who is awarded a $100 gift certificate from Shades of Green Nursery in Frisco.
Our beautification committee members (neighborhood volunteers) are already scoping the neighborhood and making notes on their top picks. To qualify for a YOM Award you must be a dues paying member and maintain a beautiful front yard. If you haven't paid your annual dues of $120 please do so today! Visit our website www.mywhiffletreehoa.com to pay with a credit card, or send a check (payable to Whiffletree HOA), to: Whiffletree HOA, PMB 288, 3948 Legacy Drive, Ste. 106, Plano, TX 75023. Any questions on YOM please call Tom at 972-978-1026.
Emergency Preparedness
City of Plano Emergency Management held a recent workshop on how emergencies are handled in the area and recommended steps for residents to take to protect their families.  The most important recommendation was to sign up for Plano City Call notification, which is a service that provides emergency notifications by email, phone (voice message recording) and/or text.  The service is similar to the Amber alerts that you may occasionally see on your phone.  On the website (https://public.coderedweb.com/CNE/en-US/925A63E78022) you can tailor which type of alerts you want to receive and by what method (phone call message, text and/or email). This service also includes notification of road/traffic issues on many of the local major roads around Plano area.
Also, in the package of information supplied at this workshop, it is recommended that residents prepare for possible emergency by having a personal safety plan and a safety kit with several items that might be useful in the event of a serious emergency (see slides 21-25 of EmergencyPreparedness presentation).
Annual Meeting Recap
On April 1, Whiffletree HOA (WHOA) held its Annual meeting at Davis Library where officers and committee chairpersons were elected and the annual budget for the upcoming fiscal year and revisions to bylaws were approved.  (Refer to the DETAILED RECAP of the Annual meeting for more information. This appears in the side-bar on the right side of this page).
Presentation Made at City Workshop on "Best Neighborhoods" Program
On February 20, Plano Neighborhood Services held a workshop to assist Homeowners Associations (HOAs) to apply for and be recognized with BEST Neighborhoods Designation. As part of the workshop where Neighborhood Services personnel described the application process and key factors in the evaluation process, Whiffletree HOA (WHOA) was asked to present to the attendees how Whiffletree achieved Platinum level (highest level) recognition by the City of Plano.
Bill Ostergren, WHOA Treasurer, and Tom Dixon, WHOA Beautification Committee Chairman, presented to the audience of over 30 people, representing more than 10 HOAs. Whiffletree was the only HOA presenting to the group. The presentation was very well received and triggered several questions (CLICK HERE to view the WHOA presentation).
WHOA was honored to make this presentation and share its experience with the BEST application process and to showcase what a fantastic neighborhood Whiffletree is. Special thanks to Tom Dixon and Bill Ostergren for their work on preparing the presentation and for such an outstanding job of communicating what Whiffletree does to make it an exceptional neighborhood. Great job guys!
---
Peanut Butter Drive - We collected 1,012 lbs
Thanks to the enormous generosity of Whiffletree families, we collected 1,012 lbs. of peanut butter for the North Texas Food Bank. It was an amazing effort, nearly double what we collected last year.
We received congratulations from Mayor Harry LaRosiliere's office, from Plano Neighborhood Services, from the North Texas Food Bank, and from Davis Library staff. Whiffletree residents were very generous and we should all be very proud of our neighborhood. Many thanks for all of your many generous donations. Our residents proved once again that we have a lot of heart and that we deserve our BEST Platinum designation from the city. Most important, our drive supporting the North Texas Food Bank will feed a lot of hungry Collin County residents. Thank you all very much!
Special thanks go to Tom Dixon and Bill Ostergren for the time that both of them spent collecting peanut butter from Whiffletree neighbors
---
About the Whiffletree V-VII Homeowners Association
The Whiffletree V-VII Homeowners Association is a residential subdivision comprised of 477 homes. It is a family-oriented neighborhood which is located just north of Legacy Drive, east of Coit Road in Plano, Texas.
Any resident of the Whiffletree V-VII neighborhood can become a paid member of the Homeowners Association. It doesn't matter if you are renting or if you own your home. We welcome all residents.
We want to formally welcome all new residents and hope each of you finds caring neighbors and a friendly atmosphere that add so much to the quality of life here in Whiffletree V-VII.
Winner of Best Neighborhood Award - Platinum Level
Whiffletree is a 2016 "Plano BEST Neighborhoods," Platinum Award recipient! We were formally recognized by the Mayor and the Plano City Council at their meeting on December 12, 2016. Platinum is the highest recognition level,  and only four Plano neighborhoods received it.  Of the four, we are the only one with a non-mandatory (voluntary) Home Owners Association.
This is a very proud moment for Whiffletree V, VI, VII and we want you to share in the excitement!  For more information about the "BEST" program and the award presentation visit www.plano.gov/2893/BEST-Neighborhoods-Designation. Thank you to all of our residents for your support of our Whiffletree neighborhood.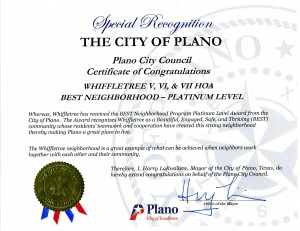 ---
Upcoming Events
| | |
| --- | --- |
| Jun 6 | D-Day Remembrance - 75th Anniversary @ Plano Event Center (2000 East Spring Creek Pkwy), 7pm - 8:15pm |
| Jul 4 | Annual July 4 Bike Parade and Picnic |
Past Events
Apr 1
WHOA Annual meeting and Election
Jan 21
Whiffletree Winter Social at Napoli's Italian Restaurant
Nov 10
Neighborhood Garage Sale
Oct 16
Home Security Presentation by Plano Police Dept., Oct. 16 at 7PM
Where: Hardy Room, 7501-A Independence Pkwy (Building next to Davis Library).
Oct 2
National Night Out - 6-8 PM at Prairie Meadow Park.
Jul 4
Annual July 4 Bike Parade and Picnic; CLICK HERE for pictures and recap
Apr 8
WHOA Annual meeting at Davis Library, begins at NOON
Jan 28
Winter Social; 6PM - 8PM at Lita's (7224 Independence Pkwy, Plano);

litasdallas.com


Whiffletree Leadership
---
Watering Guidelines for Winter Months (Apr 2019 - Oct 2019)
We are permitted to water a maximum of twice per week. Avoid watering between 10AM and 6PM and when rain is in the forecast. Even addresses can water on Mondays and Thursdays. Odd addresses can water on Tuesdays and Fridays. 
Visit www.plano.gov/220/Water-Conservation-Restrictions-Home
---
HOA Dues ($120) now being collected
To Pay by Credit Card or PayPal
A Credit Card or Paypal can be used to pay your annual HOA dues. To do this, click on the PAY NOW button (appears below).
To Pay by Check
If you prefer to mail a check, make the check payable to "WHOA" in the amount of $120 and mail this to PMB 288; 3948 Legacy Drive, Ste. 106; Plano TX 75023-8300. Thank you for your support.
---
BYLAWS
For all current and potential residents of the Whiffletree V-VII Homeowners Association, a copy of the organization's BYLAWS can be viewed by CLICKING HERE.
---
Newsletter
Click on the image above or CLICK HERE to view the Newsletter
---
National Night Out 2018
For a recap of the National Night Out 2018 Event, CLICK HERE.
---
Detailed Recap of Annual Meeting
To view a detailed recap of the Annual meeting, CLICK HERE.
---
Winter Social Recap
The WHOA Winter Social was held on Jan. 21, at Napoli's Italian Restaurant. Pictures from this event can be viewed by CLICKING HERE TO VIEW PICTURES.
The Winter Social was attended by 104 Whiffletree HOA members and has been a long-time annual event sponsored by the Whiffletree HOA for neighbors to meet neighbors in a fun, social setting.  By all reports, everyone enjoyed the classic Italian meal and the opportunity to meet their neighbors.
Alan Kravitz, Whiffletree HOA President, welcomed all the attendees to the Winter Social and highlighted that this is the premier annual event for the Whiffletree HOA and was so happy to see such a great turnout.
Thanks to Karen Slott for organizing this event and Napoli's management and staff for the great food and service.